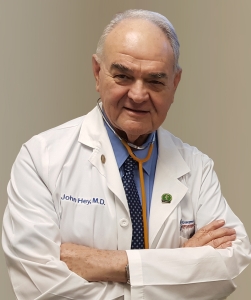 Dr. John Hey is a board-certified physician in family medicine who has delivered over 1,500 babies during his ongoing fifty-year practice.
Born and raised in the Mississippi Delta, he grew up on a farm, and attended country public schools and country Baptist churches.
Along the way, he attained the level of Eagle Scout, and learned to play piano, clarinet, and flute. Although he garnered several music scholarships, science and medicine are his great love.
Dr. Hey graduated from Mississippi College in 1960, the University of Mississippi Medical School in 1964, and commanded a medical unit in Vietnam in 1966.
He is an ordained teaching elder in his local church, having preached through every book of the Bible to the little congregation at Grace Bible Church in Greenwood, Mississippi.
Dr. Hey is a lecturer in medical ethics, and has taught numerous medical students as their preceptor and associate clinical professor of family medicine. He is also board-certified in sleep medicine, a charter fellow of the American Geriatrics Society, and the medical director of a local nursing home.
He was a certified flight instructor and private pilot for forty years, and is presently a senior aviation medical examiner for the Federal Aviation Administration.
Dr. Hey lives with Nora, his wife of sixty years, in Greenwood, Mississippi. They have four children, five grandchildren, and two great-grandchildren.