What "God's Little People" is all about …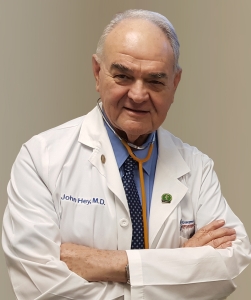 John Hey, MD
Listen to Dr. Hey's July 31st interview on American Family Radio, Part 2!
---
The moral uncertainty and apathy in our society to the plight of unborn children springs from the failure to identify them as real people.
As a Board Certified Family Practitioner, the author provides numerous captivating vignettes from his fifty year-long practice of medicine, experiences that brought him to understand that these Little People are precious to God, protected by God, and deserving of being treated with the dignity, care, and legal protections afforded to all those who have already been born. All our practices and obligations toward the unborn must be constrained by this fundamental understanding.
Along the way, Dr. Hey answers the "hard questions" about abortion and infanticide and gives a clear Gospel call to all who have been broken by sin in their treatment of the Little People.
About the Author
Dr. John Hey is a board-certified physician in Family Medicine who has delivered over 1500 babies during his ongoing fifty-year practice.
He is an ordained teaching elder in his local church, and lecturer in medical ethics.
He lives with Nora, his wife of sixty years, in Greenwood, Mississippi. They have four children, five grandchildren, and two great-grandchildren.
He is also an Army veteran, having commanded a medical unit in Vietnam in 1966-67.  He was a certified flight instructor and private pilot for forty years, and is presently a Senior Aviation Medical Examiner for the FAA.
Dr. Hey is also Board Certified in Sleep Medicine, a Charter Fellow of the American Geriatrics Society, and medical director of a local nursing home.